The Hill
Climate change legislation appears dead after two setbacks in quick succession — first from the Oval Office and then from Congress.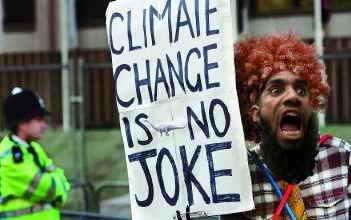 Sen. Scott Brown (Mass.), a crucial Republican swing vote, met with President Barack Obama on Wednesday and told him he would not support a cap-and-trade plan or carbon fee to limit greenhouse gas emissions.
But this blow came after Obama delivered the first setback Tuesday night. In his primetimes speech, he called for comprehensive energy reform but did not propose an emissions cap.
This stance may parallel his rhetorical backing for a public healthcare option that, however, was later excluded from reform legislation.
The White House has told Sen. John Kerry (D-Mass.) and environmental activists that it supports the carbon cap in his bill, but the presidential bully pulpit has not been used to demand it.
A senior Democratic senator said Obama knows the chances of passing climate change legislation are slim and wants to avoid a public failure.
"He knows that if he mentioned a carbon cap, his success or failure would be measured by his ability to get it," said the lawmaker, who requested anonymity to speak frankly.
But other lawmakers said a nationwide cap on emissions is now substantially less likely.
Brown reversed that momentum after Obama invited him to the White House.
"He did talk about climate and his concerns about the climate and I basically told him that I'm not in favor nor could I support a national energy tax or a cap-and-trade proposal," Brown told reporters after the meeting.
Brown said he would happily work with Obama to pick the "low-hanging fruit" of energy reform.
 "But I am very excited about working with him in a bipartisan manner to come up with a comprehensive energy plan to address a whole host of issues: wind, solar, hydro, nuclear, geothermal, conservation, incentivizing businesses, providing grants and loans to our businesses," Brown said.

Read full at
The Hill