As oil crashed through $35 a barrel in New York, some producers were already living with the reality of much lower prices.
A mix of Mexican crudes is already valued at less than $28, an 11-year low, according to data compiled by Bloomberg. Iraq is offering its heaviest variety of oil to buyers in Asia for about $25. In western Canada, some producers are selling for less than $22 a barrel.
"More than one-third of the global oil production is not economical at these prices," Ehsan Ul-Haq, senior consultant at KBC Advanced Technologies Plc, said by e-mail. "Canadian oil producers could have difficulty in covering their operational costs."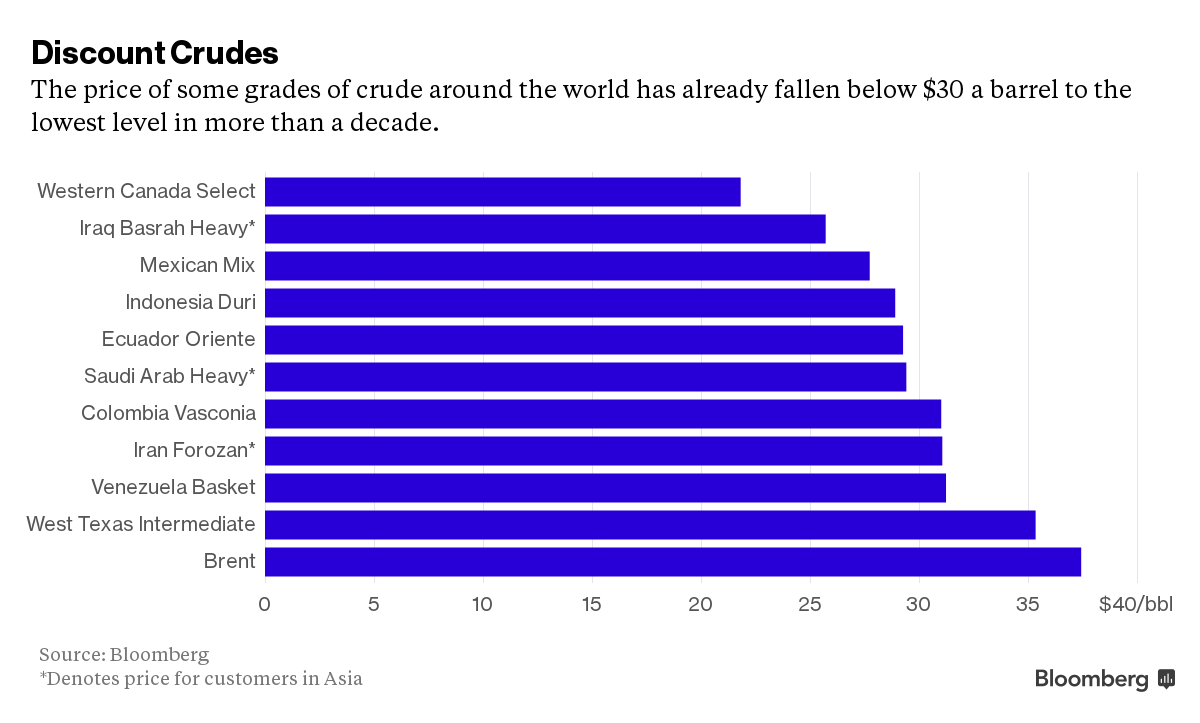 Oil has slumped to levels last seen in the global financial crisis in 2009 amid a global supply glut. While the prices of benchmarks West Texas Intermediate and Brent hover in the $30s, they represent a category of crude -- light and low in sulfur -- that is more highly valued because it's easier to refine. Some producers of thicker, blacker and more sulfurous varieties have suffered heavier losses and are already living in the $20s.
A blend of Mexican crude has plunged 73 percent in 18 months to $27.74 on Dec. 11, its lowest level since 2004, according to data compiled by Bloomberg. Venezuela is experiencing similar lows. Western Canada Select, which is heavy and sulfurous, has slumped 75 percent to $21.37, the least in almost eight years. Other varieties including Ecuador's Oriente, Saudi Arabia's Arab Heavy and Iraq's Basrah Heavy were selling below $30, the data show.
Bitumen -- which technically isn't crude but a heavy black viscous oil that constitutes the so-called tar sands along with clay, sand and water -- is trading at around $13 a barrel, suffering a drop of more than 80 percent since June 2014.
Crudes of this type trade at a discount to lighter varieties because to process them "refiners have to invest in upgrading facilities such as coking plants, which are very expensive," KBC's Ul-Haq said.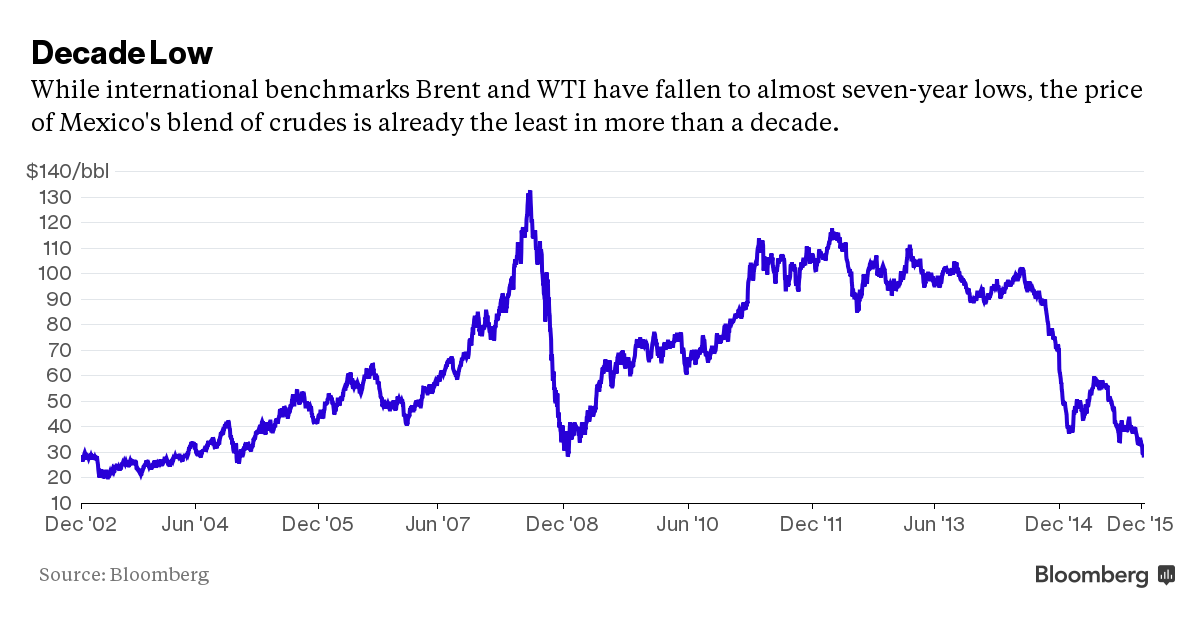 "Most places in the world, a lot of the producers they don't really get the Brent price, and they don't get the WTI price," Torbjoern Kjus, an analyst at DNB ASA in Oslo, said by phone. "It's really a dramatic situation that really cannot continue for a very long time for many producers."
Global benchmark Brent slid 5 cents to $37.87 a barrel on the London-based ICE Futures Europe exchange at 11:38 a.m. Singapore time. WTI was unchanged at $36.31.
Mexico's government insulated itself from the oil slump after it managed to hedge 212 million barrels of planned exports for 2016, using options contracts to secure an average price of $49 a barrel. The nation's 2015 oil hedge provided it with a bonus of $6.3 billion.
Not all oil producing nations are as well protected. OPEC member Venezuela's national budget for next year assumes a price of $40 when its own crude is trading at just above $30. The nation's dollar reserves have fallen by 32 percent this year to $14.6 billion.
Please read full and follow at: