CCOHS -
For many workers, their jobs can take an unexpected toll on their physical health. An occupational disease can be disruptive, disabling, and even fatal. However, workplaces can take preventive action on respiratory hazards that can lead to mesothelioma, lung cancer, silicosis, asbestosis, and other serious occupational diseases.
Recognizing and preventing these work-related diseases can be more challenging than trying to prevent injuries. Many occupational diseases, including respiratory conditions, are connected to workplace exposures that occurred many years before. It's possible for a worker not to experience immediate health effects such as irritation and coughing and yet develop lung cancer decades later. As well, occupational diseases often result from repeated exposures to invisible gases or particles, rather than from a single event.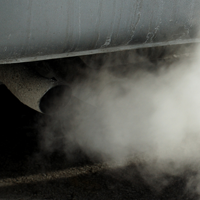 Workplaces can take action to identify and address breathing hazards from agents that can lead to lung cancer and other illnesses. Particulates, in a workplace context, most often refers to particles, dust, mist or fumes that are in the surrounding air that workers are at risk of inhaling. Breathing is the most common way by which they enter the lungs. How far the particle gets in the air passages of the respiratory system, and what it does when it is deposited, depends on the size, shape, and density of the material, as well as on its chemical and toxic properties.
The Canadian picture
According to national data from the Association of Workers' Compensation Boards of Canada (AWCBC), occupational diseases caused 64% (612) of deaths vs. 36% (339) traumatic fatalities in 2017. Keep in mind that these numbers do not include deaths in workplaces not covered by a compensation board (from diseases not accepted to be work-related), illness that are not acknowledged as being associated with a workplace exposure, nor those illnesses that are not reported. Plus, there are thousands more non-fatal illnesses and health impacts, including occupational deafness, dermatitis and asthma.
Cancer Care Ontario and the Occupational Cancer Research Centre estimate that approximately 1,300 cancer cases per year in Ontario are related to exposure to asbestos, diesel engine exhaust, crystalline silica and welding fumes. According to the Ontario Ministry of Labour, Training and Skills Development, long latency illnesses, emerging years after exposure to a disease-causing agent, accounted for the largest portion of compensation benefit costs between 2008 and 2017. To address these workplace hazards, the Ministry is conducting an inspection blitz focused on the dusts, vapours and fumes that can lead to the most common fatal occupational diseases: mesothelioma, lung and bronchial cancers, and asbestosis. Focus will be on the construction, industrial, health care, and mining sectors.
Respiratory hazards at construction and industrial sites can include lead dust and fumes; silica dust from cutting concrete or sandblasting; solvent vapours from adhesives, paints, and strippers; isocyanate vapours from spray form insulation and coatings; and carbon monoxide from gas-powered equipment as examples. In health care and community care workplaces, employers should focus on work processes that generate aerosols and the controls that should be in place. Working in a closed underground environment, miners can be exposed to airborne hazards such as diesel exhaust, silica, radon, and arsenic. Many of these exposures have been associated with lung cancer and chronic respiratory diseases (including pneumoconiosis and chronic obstructive pulmonary disease).
What employers can do
All employers, regardless of worksite or location, can take steps to improve worker safety:
Complete a hazard assessment to identify what respiratory agents are present in the workplace
Regularly review for opportunities to move control of hazards up the hierarchy of controls to minimize exposure. Can the hazard be eliminated, or prevented from entering the air in the first place?
Implement proper controls and work practices to prevent respiratory hazards and to ensure that worker exposure to agents is kept below legal limits
Make sure that work areas have proper ventilation
Provide information, instruction and supervision to workers
Train workers on respiratory hazards specific to their workplace. Employers, supervisors and trainers should encourage workers to communicate any concerns they may have about occupational disease.
Provide training on the correct use and fit testing of any necessary personal protective equipment, including respirators.
Properly maintain personal protective equipment.
About occupational exposure limits
Occupational exposure limits are the recommended maximum amount and length of time most workers can be exposed to a toxic substance without suffering any known harmful consequences. However, remember a legal limit or guideline (such as an occupational exposure limit) should never be viewed as a line between "safe" and "unsafe". It is important to strive for "as low as reasonably achievable" exposure where possible. Within Canada, the provinces, territories and the federal government list which occupational exposure limits are enforceable under their health and safety legislation. View the legislative references for exposure limits to chemical and biological agents for each jurisdiction. Please note that while you can see the list of legislation for free, you will need a subscription to view the actual documentation.
Workers have a right to be safe on the job. Employers must take every precaution reasonable in the circumstances for workers' protection. By identifying solutions for eliminating or reducing respiratory hazards, workplaces can take action now to prevent future harm to workers.
Resources